SAEZ.LAW
SAEZ.LAW is a Galician law firm founded by Tax Lawyer Álvaro Sáez in 2017 in Poio, in the province of Pontevedra (Spain).
Álvaro is famous for having cancelled, among others, in cassation, the Spanish Tax Authorities' inspections on the musicians of ESPECTÁCULOS LITO, amounting to TWO MILLION EUROS (€2,000,000).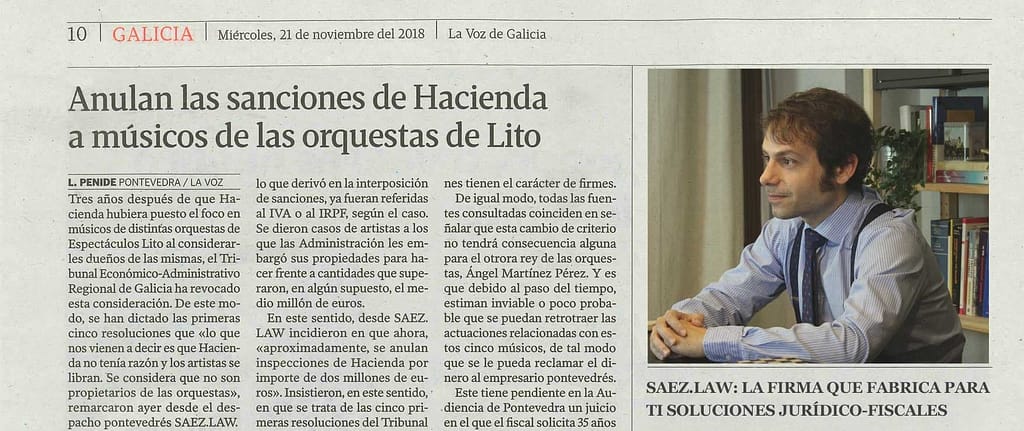 ÁLVARO SÁEZ
Double degree in Law/Business Administration from ICADE University (Madrid), currently considered the most prestigious Law School in Spain.
After completing his studies he initiated his professional career as a Tax Lawyer at the law firm CUATRECASAS, ranked second in Spain in terms of revenue.
After his professional experience at CUATRECASAS, he devoted himself to the family business, the management company SÁEZ PROFESIONALES, achieving a 50% increase in revenue in just over five years.
Since 2017 he runs his own law firm in Pontevedra, SAEZ.LAW, and has also published a book with the publisher Planeta, «Not paying Taxes to help others», and regularly organises the tax workshops «SAEZ.LAW Experience» at entrepreneurs' associations and business schools.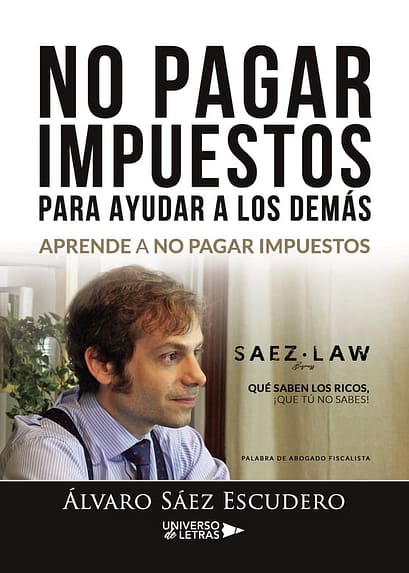 "Álvaro has a very educational way of explaining why we shouldn't pay taxes and his ideas are well grounded.
I hope many people read, understand and apply the concepts set out in this book.
Thanks Álvaro!"
Cristian Abratte. Manager and Founder of Escuela de Riqueza.
He also participates in various radio programmes and seminars preparing tax-related podcasts, always taking a different approach with the ultimate aim of helping others.
SAEZ.LAW Experience is a completely innovative initiative which offers practical and realistic training in which, by defining his students' tax profiles, he designs the strategies his students need to achieve success using their taxes as a tool.
"I met Álvaro at a training session he delivered, which I found very interesting, refreshing and enjoyable. Álvaro is clearly passionate about his profession, in addition to being a creative and active person. Highly recommended for anyone who likes exploring different viewpoints and stepping out of their comfort zone."
Fernando Martínez.
My aim is to help others with their taxes on a daily basis, whether by making allegations against the Spanish Treasury or appealing against the Spanish Tax Agency. We often organise affected persons' platforms.
I specialise in Tax Inspections. I thoroughly enjoy proceeding against the Spanish Tax Agency and proving them wrong. I defend companies and private individuals, representing them in judicial proceedings.
Five years ago the Spanish Tax Agency came into my life to destroy it, with everything it entailed. Emotional and personal damage and losses are irreparable. But today I'm a free person at the height of my career thanks to MR. ÁLVARO SÁEZ ESCUDERO. With his invaluable work as a tax lawyer, not only did he defend me in this long process, but also advised and assisted me at all times rising above any circumstances, especially the most difficult ones. I cannot thank him enough for all his work from the day I first walked into his office to the moment in which he called me to say that justice had been done and that my five-year nightmare had finally ended.
THANKS ÁLVARO!!!".
My aim is to defend fairer taxes for you and for everyone so we can be more free, prosperous and equal.
MISSION-VISION-VALUES
MISSION
Our mission is to contribute daily to making our clients' dreams come true. SAEZ.LAW, through innovation in work processes and the talent of each of our professionals, generates constant success in the legal/tax and corporate spheres.
VISION
We dream about a better world in which people do what they enjoy doing, in which prosperity, happiness and freedom are the meeting points of the "members" of our "community". We want more and more people, companies and entrepreneurs to jump on the SAEZ.LAW bandwagon, the bandwagon of opportunities…
VALUES
We consider that creativity, empathy and freedom of action are essential values for our clients to achieve success.
Creativity:
Our continuous innovation method.
Freedom of action of our professionals:
The best guarantee of success for customer satisfaction.
Empathy:
The connecting link of our community.